Proud to introduce our new brand, Mina Vita. With Mina Vita, we fulfill our mission to improve consumers' healthy lifestyles across Europe. Mina Vita tells not only about the products Rola Fresh supply but also about their health effects. From this week, the first cartons of Mina Vita sweet potatoes are available.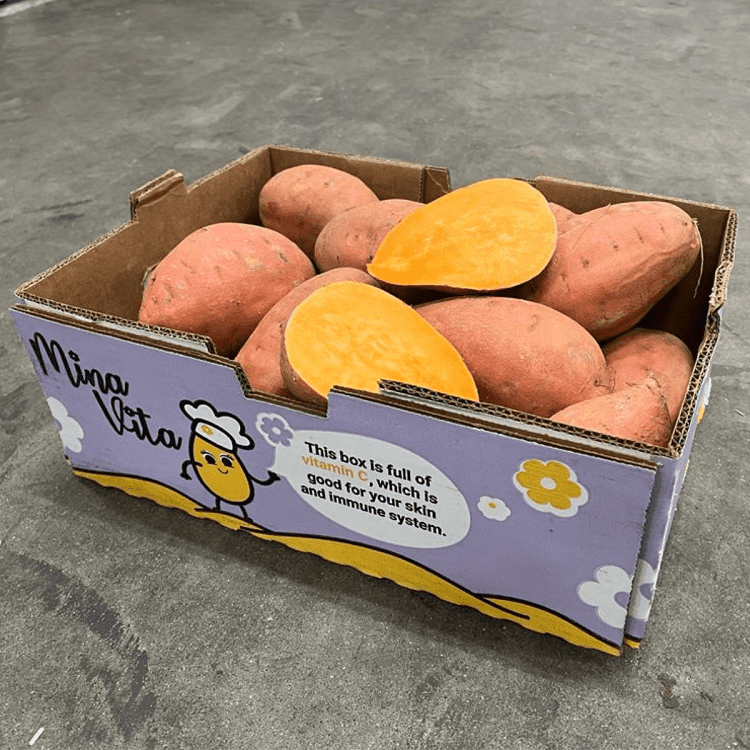 To spread health
This is Rola Fresh's mission and exactly what Mina Vita will do. "By telling more about the health effects of the healthy products we supply, we hope that consumers will become aware of this and also want to eat more healthy." Says Robert Voskamp. "We think it's important that we don't just tell that we think health is important, but actually act on it. This is one of the examples of how we shape this as a company. We are starting with Mina Vita on sweet potato packaging and we will expand this to other products in the future. We hope Mina Vita will be embraced by everyone in the sector so we can make it big together."
Mina Vita sweet potato
The first Mina Vita sweet potatoes are available from now on. Delivering good quality vegetables is a matter of course for Rola Fresh. The Mina Vita sweet potatoes are characterized by a bright and clear skin and a beautiful colored orange flesh.
The special thing about the sweet potato is that it is not a potato but a tuberous vegetable. A lot of consumers have no idea about this. Sweet potatoes are also real vitamin bombs. They contain a lot of vitamin C, which is good for your skin and immune system. You will find this story on the packaging and Rola Fresh wants to tell the whole world with the help of Mina Vita. Later this year, Rola Fresh hopes to deliver a supporting website where the story of Mina Vita is further explained and what will support the trade to take this brand further up the chain.